WOOD
Matthieu Donarier (sax, clar) & Sébastien Boisseau (ctb)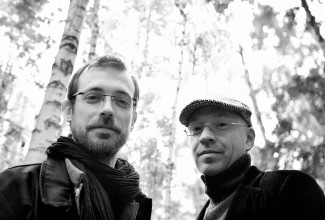 WOOD sonde patiemment la matière, fait jaillir les résonances, creuse les silences, patine son chant jusqu'à l'épure.
Groupe de scène avant tout, ce duo de l'instinct et de l'instant démonte et remonte sans cesse ses compositions, improvise des hymnes à l'amour, des rythmiques improbables qui progressent sur le fil de l'inconnu, des chants d'oiseaux jamais entendus jusqu'alors. WOOD rend hommage à Duke Ellington et revisite Joachim Kühn avec la même force de propos. Les racines sont ancrées dans la terre du jazz, pour autant les branches sont multiples, pleines de fruits.
Leur musique coule de source : bien malin qui peut dire où commence l'improvisé, où finit l'écriture… c'est une des forces de ce duo, qui confirme définitivement la complicité de ces orfèvres que sont Sébastien Boisseau et Matthieu Donarier.
Ils nous livrent leur premier opus, pour le printemps 2013 (réédition en décembre 2013)
Sur le label Yolk, bien entendu et distribué par L'autre Distribution.
EN
Wood patiently probes into matter, makes harmonics gush forth, digs into silences, embellishes its song all the way to purity.
A stage band before all, this duo relies on instant and instinct to put apart and reassemble its compositions ceaselessly, improvise hymnes to love, improbable rhythms which follow the ebb and flow of the unknown, bird songs that have never been heard before.
Wood pays tribute to Duke Ellington and revisits Joachim Kühn with the same strong stance. The roots go deep into jazz soil while the branches are many and fruitful.
Their music flows naturally: Who knows where the improvisation starts and where the writing ends…. it is one of the strenghts of this duo, which definitely confirms the complicity between the fine artists that are Sébastien Boisseau and Matthieu Donarier.
They will release their first opus by Spring 2013. Under the Yolk label, naturally.
AVEC UN INVITE SUR SCENE / WITH GUEST …
Sébastien Boisseau et Matthieu Donarier proposent également d'inviter un ou deux musiciens à se joindre à eux.
L'instant d'un concert le duo deviendra trio ou quartet et éclairera la musique de WOOD d'une lumière inédite.
Rita Marcotulli (piano) – IT
Duo Sylvie Coursvoisier (piano) & Mark Feldman (violon) – USA
Tom Arthurs (trompette) – GB
Pierre Favre (batterie) – CH
Jozef Dumoulin (piano) – BE
Eve Risser (piano) – FR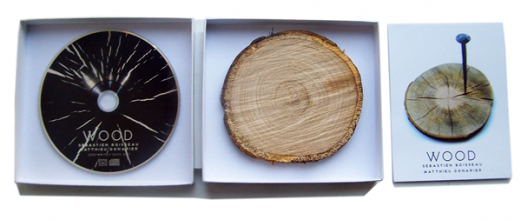 Wood Live concerts
PRESSE / REVIEWS…
WOOD cité parmi les « 120 duos cultes de l'histoire du Jazz »
Jazz Magazine Jazzman, décembre 2013 n°656
« Peut-on admettre un enregistrement aussi récent dans le cercle fermé de cent plus beaux duos, sans attendre le résultat de la patine du temps sur ces bois-là? On prend le risque avec bonheur, guidé par la complicité et les sonorités exceptionnelles de ces duettistes. » Vincent Cotro

Jazz Magazine Jazzman, mai 2013 n°649
ELU Choc + portrait croisés de 3 pages 
« C'est toute leur musique qui sent le bois. Le bois des anches de Donarier, le bois de la contrebasse de Boisseau. »
Franck Bergerot Jazz Magazine/Jazzman
« La musique proposée [...] possède un charme essentiel, la beauté du son – des sons »
« La musique offerte par Wood, parce que belle et située hors des courants et des clichés, apaise et rassure »
Eric Quenot – Jazz Magazine/Jazzman
« ELU » CITIZEN JAZZ
« Une réussite. Le disque s'écoute comme une seule et longue suite formant un arc musical tendu. Une longue histoire d'une grande beauté. » Matthieu Jouan – Citizen jazz
«  En 2013, Matthieu Donarier et Sébastien Boisseau ont réalisé un merveilleux disque qui les a propulsés immédiatement parmi les maîtres actuels du duo. Leur conversation, qui est le contraire du bavardage, est subtile, intense et poétique. Les écouter, c'est se rapprocher de l'essentiel. » Nevers Jazz Festival
« Voilà un disque qui m'a plu énormément. D'abord parce qu'une seule écoute ne suffit pas à en épuiser le suc. Ensuite parce que la variété sans incohérence de l'ensemble procure un réel plaisir. Parce que, aussi, les deux artistes sont de merveilleux musiciens. Parce que l'album n'est ni trop long ni trop court. Mais aussi, et surtout, parce qu'il y a une réelle pensée derrière la production. »
Ludovic Florin 
« Leur rencontre en duo est un petit bijou musical." L'Europa Jazz Du Mans
"Leur duo est une évidence pleine de surprises… " Olivier Acosta, www.mozaic-jazz.com
« Boisseau & Donarier belong to the young generation of improvising musicians who – following the work of artists like Louis Sclavis – play a kind of music that could be labelled as typically European, while freeing themselves from the emphasis on the cultural distinctiveness of French music: the duo of double bass player Sébastien Boisseau and reed player Matthieu Donarier is as much influenced by classical music. They also have in common their membership to Daniel Humair 's groups. Their vision of sound is playful, with an effective and accurate use of unconventional effects, but apart from that, their emphasis is on the lyrical side and clear form of their compositions. They are at their best when they allow themselves space to calmly explore their detailed and subtle sound, thus creating a firm musical tension. We hear a lot of jazz in their improvisations, but the result of their cooperation leans mostly towards transparent chamber music. »
Ken Vos
« Within this new generation of French saxophone players that appeared in the 90′s, Matthieu Donarier from the Loire region is undeniably one of the most gifted, the most relevant and the most wanted by the great names of this music (he has been a noticeable part of Daniel Humair, Patrice Caratini, Stephan Oliva's ensembles). Sébastien Boisseau is one of today's most remarked double bassist and he enjoys a great reputation . Just like a new Jean-François Jenny-Clarck ! Their meeting in a duo is a musical jewel »
Le Mans Europa Jazz Festival
« Their duo is an evidence full of surprises…
When one of the two flies away, the other makes sure to keep his two feet on the ground, so that their music always dithers between the earth and the sky.It is light, fluid and utterly mastered. One can perceive the complicity at once, or even more, this telepathic bond which leads them to choose at any time what seems to be the most suitable option to what the other one puts forward. »
Olivier Acosta, www.mozaic-jazz.com
_______________________________________________
RÉFÉRENCES SCÉNIQUES
TOURNÉE 2016
31 janvier: Festival Jazz à Port-Louis (Fr)
23 juin: ROME avec RITA MARCOTULLI (It)
02 octobre: Drancy (Fr)
04 octobre: Tours (Les Salons de Musique) (Fr)
15 octobre: Saint-Froult (Fr)
16 octobre: Saint-Fiacre (Fr)
26 octobre: Nozay Graines d'Automne (Fr)
27 octobre: Le Mans (Fr)
28 octobre: Saint-Senoux (Fr)
29 octobre: Paris (Fr)
30 octobre: Dreux(Fr)
TOURNÉE 2015
16 avril: Reims @ Djazz51 (Fr)
06 mai : Le Mans @ Europa Jazz Festival (Fr)
18 juillet : Baden (Fr)
26 juillet : Jazz sur Lie (Fr)
23 août : Throueil @ Jazz en Loire Festival (Fr)
29 août : Groningen @ ZomerFiestJazzTour (NL)
08 novembre: Parçay @ Musée Jules Desbois (Fr)
TOURNÉE 2014
07 février: Nantes @ Le Pannonica (Fr)
03 mai : Périgueux @ Le Paradis (Fr)
06 mai : Tours @ Le Petit Faucheux (invités S.Courvoisier & M.Feldman) (Fr)
13 mai : Paris @ Sunside (invité Jozef Dumoulin) (Fr)
16 mai : Lausanne @ Le Chorus (invité Pierre Favre) (CH)
17 mai : Jazz in Arles Festival (Fr)
18 mai : Marseille @ Le Point de Bascule (Fr)
19 mai : Perpignan – Masterclass conservatoire (Fr)
20 mai : Perpignan @ Le Théâtre municipal (Fr)
21 mai : La Grande Longère @ Le Rouquet, Montesquieu-Lauragais (Fr)
24 juin : Orléans Jazz Festival (Fr)
06 juillet : Paris Jazz Festival (Fr)
24 juillet : Rouen @ Terrasses du jeudi (Fr)
17 août : Jazz Campus en Clunisois (Fr)
01 octobre : Le Mans @ Eve (invité Tom Arthurs) (Fr)
02 octobre : Olivet @ MJC (invité Tom Arthurs) (Fr)
03 octobre : Le Pallet @ Musée du Vignoble (invité Tom Arthurs) (Fr)
13 novembre : D'Jazz Nevers Festival (Fr)
21 novembre: Festival Emergences – Bléré (Fr)
TOURNÉE 2013
13 mars: Clohars-Carnöt @ LAMA (Fr)
14 mars: Clohars-Carnöt @ LAMA (Fr)
15 mars: Clohars-Carnöt @ LAMA (Fr)
11 mai : Paris @ L'Improvisate Jazz Club (Fr)
23 juin : Angers @ Paï Paï (Fr)
25 juin : Angers @ Salon de Musique (Fr)
26 juin : Angers @ T'es Rock Coco (Fr)
27 juin : Le Mans @ Le Bar'ouf (Fr)
27 juin : Le Mans @ Les Allumés du Jazz (Fr)
28 juin : Mazé @ Jazz au Jardin
29 juin : Malville @ Festival du Goust de la Musique (Fr)
07 septembre : Domaine Mosse (Fr)
14 septembre : Nantes @ Musée des Beaux-Arts (Fr)
14 décembre : Vitrolles @ Moulin à Jazz (Fr)
15 décembre : Malakoff @ Fabrica'son (Fr)
TOURNÉE 2012
21 janvier: Paris @ Radio France (Fr)
10 mars : St Herblain @ Médiathèque (Fr)
24 mai : Nantes @ Salon de musique (Fr)
13 août : Segré @ Saveurs Jazz Festival