TRIO OLIVA / BOISSEAU / RAINEY
NEXT EUROPEAN TOUR : JULY & NOVEMBER 2017

FR
Pas surprenant que trois musiciens des plus chevronnés choisissent la formule reine des orchestres de jazz pour combiner leurs expériences et leurs conceptions du son, du rêve, de la puissance ou du drame.
Oliva, Boisseau et Rainey, connaissent ces échanges triangulaires qui jalonnent leurs parcours. Ils ont joué avec différents maitres du trio piano-basse-batterie, Paul Motian, Fred Hersch, Kenny Werner, Joachim Kühn … Ils ont également en commun des collaborations avec le guitariste Marc Ducret. Aujourd'hui, c'est naturellement qu'ils s'associent pour cette aventure inédite.
PAST CONCERTS
CREATION 2016 MAY 21TH @ EUROPA JAZZ FESTIVAL
EUROPEAN TOUR DECEMBER 2016 (FRANCE & HUNGARY)
————
EN
Unsurprisingly, these three musicians chose the queen formula of the jazz band in order to combine their experiences and conceptions of sound, inspiring dreams, power, or even drama at times.
Oliva, Boisseau and Rainey know very well these triangular exchanges which mark out their respective paths. They have already played before with varioues masters of the piano/bass/drums trio : Paul Motian, Fred Hersch, Kenny Werner, Joachim Kühn … They also have in common their collaborations with guitarist Marc Ducret. Today, they combine their talents and experiences for this new adventure.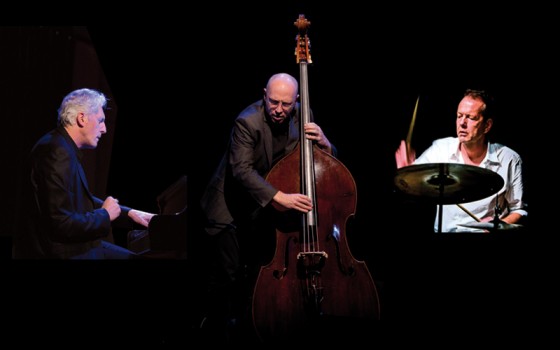 BIOGRAPHIES
STÉPHAN OLIVA fait parti des pianistes europèens de grands talents dont le nom évoque une modernité inscrite dans la grande histoire du jazz et de l'improvisation. Reconnu pour la finesse de son jeu, son originalité et son éclec- tisme, Stéphan Oliva est apprécié à travers le monde.
Apparu sur la scène du jazz au début des années 90, après de solides études classiques, Stéphan Oliva s'intègre d'emblée à un groupe informel d'instru- mentistes de sa génération (Claude Tchamitchian, Jean-Pierre Jullian, Bruno Chevillon, François Merville…) qu'animent les mêmes aspirations esthétiques.
Ils deviendront vite les espoirs du jazz hexagonal et restent aujourd'hui des références au niveau européen. De la voie de Bill Evans (dont un concert entendu en public l'amena au jazz) aux voix de Susanne Abbuehl, de Linda Sharrock ou d'Hannah Schygulla (qu'il accompagne), de l'ascèse (Lennie Tristano, revisité avec son compère François Raulin) au tra- pèze (son duo avec la « danseuse aérienne » Mélissa Von Vépy), de Paul Motian (qu'il révère et invita) aux musiques de films (qu'il compose), Stéphan Oliva est décidément un pianiste et un musicien atypique et pluriel.
*****************************
SÉBASTIEN BOISSEAU est devenu en peu de temps un contrebassiste de référence en Europe. Installé à Nantes, il co-dirige le label Yolk Records.
Développant un jeu puissant et élégant, ses références sont ancrées dans le jazz quelque part entre Jean-François Jenny-Clark, Marc Johnson et Scott Lafaro.
Il compose pour ses projets WOOD et UNIT et participe à de nombreux projets européens. Fidèle aux partenaires de la première heure (Alban Darche, Denis Badault, Matthieu Donarier, Jean-Louis Pommier…), il a collaboré et se produit avec de nombreuses figures du jazz: Daniel Humair, Joachim Kühn, Louis Sclavis, Charlie Mariano, Marc Ducret, Martial Solal, Misha Mengelberg, John Hollenbeck, Pat Metheny, Michel Portal, Gábor Gadó, Eric Watson, Stéphan Oliva, Hans Lüdemann, Samuel Blaser, Piotr Wojstasik, John Tchicai, Mikko Innanen, Kenny Werner, Simon Goubert, Pierre Dørge…
*****************************
TOM RAINEY est né à Los Angeles, la Californie en 1957. Depuis son installation à New York en 1979 il a s'est produit dans de grands festivals et clubs à travers l'Amérique du Nord et l'Europe avec de très nom- breux artistes, tels que John Abercrombie, Ray Anderson, Tim Berne, la Fleur de Jane Ira, Ted Curson, Marc Ducret, George Gruntz, David Torn, Mark Helias, Fred Hersch, Andy Laster, Joe Lovano, Carmen McRae, Mike Nock, Simon Nabatov, Nouvel et Utilisé, Matthias Schubert, Tom Varner, WDR la Grande Bande(Orchestre), Ken Werner et Denny Zeitlin.
Ces nombreuses participation d'enregistrement studio et le calibre des musiciens avec qui ils enregsitra l'ont rapidement placé parmi les batteurs de renoms identifiés à la scène de jazz créative et avant-gardiste New-Yorkaise de la fin des années 80 à aujourd'hui. Tom Rainey a enregistré son 1er album en tant que leader, «Pool School» pourle label Cleanfeed records en mai 2010. Il publia deux autres albums sous son propre nom cheu Intakt records en 2012 et 2014.