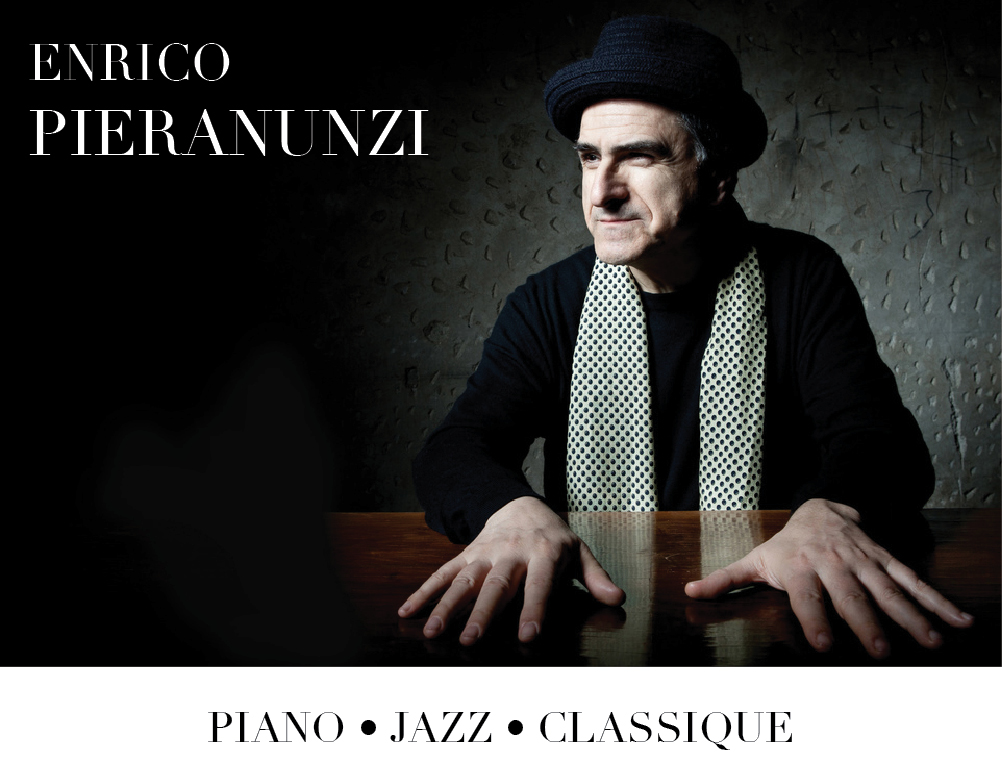 Enrico Pieranunzi fait incontestablement parti des musiciens les plus importants et les plus reconnus du jazz international.
Il poursuit  depuis longtemps une double carrière, concertiste classique d'une part, pianiste de jazz et compositeur d'autre part. Influencé par Charlie Parker, Claude Debussy et la musique populaire romaine, Pieranunzi fait partie – avec Keith Jarrett et Bill Evans –  des musiciens qui ont repoussé les limites du piano.
Pianiste, compositeur et arrangeur, il a enregistré environ 80 albums sous son propre nom, allant du piano solo au trio, du duo au quintette.
Il a notamment collaboré, en Live ou en studio, avec Chet Baker, Lee Konitz, Paul Motian, Charlie Haden, Chris Potter, Marc Johnson et Joey Baron. Pieranunzi a été nommé Artiste de l'année italien trois fois par le sondage sur les critiques du magazine Musica Jazz (1989, 2003, 2008). Il a également remporté le prix français Django d'Or en 1997 en tant que « Meilleur musicien européen » et le prix allemand Echo Jazz en 2014 en tant que «Meilleur artiste de clavier international».
La presse internationale ne tarit pas d'éloges à son sujet et reconnait en lui une puissance lyrique ainsi qu'une exigence de créativité permanente au plus haut niveau.
Il est le seul musicien italien et l'un des rares musiciens européen à avoir joué et enregistré au Village Vanguard, le club de jazz historique de New York
Il présente actuellement plusieurs projets avec différentes formations:
En solo avec un magnifique programme intégrant ses compositions et des interprétations d'oeuvres classiques tirées de ses albums « Play Scarlatti » ou encore » Bach, Handel, Scarlatti »…
En trio jazz avec l'album « Monsieur Claude », superbe hommage au compositeur Claude Debussy disparu il y a 100ans.
Et l'un des événement jazz de la fin d'année 2019, Enrico Pieranunzi reforme son trio mythique avec Marc Johnson et Joey Baron, l'un des trios qui a marqué l'histoire des année 90-2000. A retrouver en tournée en décembre 2019 puis en 2020.
(English version)
Enrico Pieranunzi is undeniably one of the most important and recognized musicians in international jazz.
He has long pursued a dual career as a classical concert performer on the one hand and as a jazz pianist and composer on the other. Influenced by Charlie Parker, Claude Debussy and Roman folk music, Pieranunzi is one of the musicians – along with Keith Jarrett and Bill Evans – who have pushed the limits of the piano.
Pianist, composer and arranger, he has recorded some 80 albums under his own name, ranging from solo piano to trio, duo to quintet.
He has collaborated, both live and in the studio, with Chet Baker, Lee Konitz, Paul Motian, Charlie Haden, Chris Potter, Marc Johnson and Joey Baron. Pieranunzi has been named Italian Artist of the Year three times by Musica Jazz magazine's critics' poll (1989, 2003, 2008). He also won the French Django d'Or award in 1997 as « Best European Musician » and the German Echo Jazz award in 2014 as « Best International Keyboard Artist ».
The international press is full of acclaim for him and recognizes in him a lyrical power as well as a demand for permanent creativity at the highest level. He is the only Italian musician and one of the few European musicians to have played and recorded at Village Vanguard, the historic jazz club in New York City.
He is currently presenting several projects with different trainings: Solo with a magnificent programme integrating his compositions and interpretations of classical works from his albums « Play Scarlatti » or « Bach, Handel, Scarlatti »…
In jazz trio with the album « Monsieur Claude », a superb tribute to the composer Claude Debussy who died 100 years ago.
And one of the jazz events of the end of 2019, Enrico Pieranunzi re-formed his mythical trio with Marc Johnson and Joey Baron, one of the trios that marked the history of the years 90-2000. The trio will be back on tour in December 2019 and again in 2020.
• • • • • • • • • • • • • • • • • • • • • • •
  PROJECTS 2023/2024

Solo « Unlimited »
Piano Solo
Voyage dans l'immense répertoire du pianiste.

TRIO « français »
Enrico Pieranunzi – piano
Diego Imbert – contrebasse
André Ceccarelli – batterie

Trio Pieranunzi/Somsen/Rossy
Enrico Pieranunzi – piano
Jasper Somsen – contrebasse
Jorge Rossy – batterie

PRESSE
« Enrico Pieranunzi en piano solo, ce n'est pas un concert, c'est un cadeau. Depuis dix ans le pianiste italien est non seulement au sommet de son art, mais au sommet de sa liberté et de sa spontanéité. » JAZZ MAGAZINE 
« Pieranunzi est devenu l'un des personnages-clés de l'histoire récente du jazz, en Europe et ailleurs. »  CITIZEN JAZZ 
« musicalité chantante et d'une délicatesse de traitement qui font de cet album l'un des meilleurs, si non le meilleur, que l'on ait jamais consacré à la musique du magicien de Broadway » CLASSICA  
DISCOGRAPHIE SÉLECTIVE