*****************************
Julien STELLA – Clarinettes
Bastien WEEGER – Saxophones
*****************************
FR
Depuis qu'ils se sont rencontrés sur un quai de gare un jour de grève, Julien Stella et Bastien Weeger n'ont plus jamais cessé d'entrelacer leurs voix et leurs rêves en quête d'échappées belles.
A l'heure où l'on croit tout connaître, NoSax NoClar rappelle que voyager demeure un mystère à chérir.
Leur musique délicieusement voyageuse a ce génie d'inventer au fil du dialogue son propre folklore imaginaire, les deux souffleurs mêlant timbre, rythme et harmonie dans un même geste d'une virtuosité jamais ostentatoire et d'une étonnante maturité.
Leur formule a de quoi toucher tout le monde par la simplicité et par la puissance de ses histoires bouleversantes. Bastien Weeger et Julien Stella, plus humbles qu'il ne le faudrait, sont riches d'une culture musicale sans frontières. Kahmsïn, leur premier album, s'inspirait des traditions de musiques celtes (Irlande), berbères ou des Balkans pour composer librement, avec leur bagage. Rëd Sisters, leur deuxième album, continue de tourner autour de racines mondiales, l'Arménie en plus.
Tout est prétexte à rechercher de nouvelles manières de jouer de leurs instruments (clarinette, clarinette basse, saxophone alto et soprano). Une philosophie qui a plu à Yolk, dès le premier album Kahmsïn, sorti en version digitale en 2020. Le jeu des textures, mais surtout les rythmes tiennent ici un rôle fondamental. Leurs pirouettes occupent le terrain, sans filet de protection, nous faisant presque oublier qu'ils ne sont qu'eux deux à jouer
Lauréat 2019 du dispositif Jazz Migration, mené par le réseau AJC qui repère les jeunes talents issus de la scène jazz d'aujourd'hui puis sélectionné en showcase au salon international Jazzahead! 2023. NoSax NoClar est sans aucun doute l'une des révélations de la scène jazz actuelle !
Leur 1er album « Kahmsïn » est sorti en mai 2020 et le second « Rëd Sisters » en septembre 2021 sur le label Yolk Records. Un troisième album est prévu pour octobre 2023.
*****************************
EN
Since they met on a train platform on a strike day, Julien Stella and Bastien Weeger have never stopped intertwining their voices and their dreams in search of beautiful escapes.
At a time when we think we know everything, NoSax NoClar reminds us that travel remains a mystery to be cherished.
Their deliciously travelled music has the genius of inventing its own imaginary folklore in the course of the dialogue, the two blowers mixing timbre, rhythm and harmony in the same gesture of a never ostentatious virtuosity and of an astonishing maturity.
Their formula has something to touch everyone by the simplicity and by the power of its moving stories. Bastien Weeger and Julien Stella, more humble than they should be, are rich in a musical culture without borders. Kahmsïn, their first album, was inspired by Celtic (Ireland), Berber or Balkan music traditions to compose freely, with their own baggage. Rëd Sisters, their second album, continues to revolve around global roots, with Armenia as an added bonus.
Everything is a pretext to search for new ways to play their instruments (clarinet, bass clarinet, alto and soprano saxophone). A philosophy that pleased Yolk, from the first album Kahmsïn, released in digital version in 2020. The play of textures, but above all the rhythms play a fundamental role here. Their pirouettes occupy the field, without a safety net, making us almost forget that they are only the two of them playing.
Laureate 2019 of the scheme Jazz Migration, led by the AJC network that identifies young talent from the jazz scene today and then selected in showcase at the international show Jazzahead! 2023. NoSax NoClar is without a doubt one of the revelations of the current jazz scene!
Their first album « Kahmsïn » was released in May 2020 and the second « Rëd Sisters » in September 2021 on the label Yolk Records. Their third album will be release in Octobre 2023.


« …ces deux jeunes musiciens sont LA découverte musicale de l'année ! « – Europa Jazz Festival
« …these two young musicians are THE musical discovery of the year! « – Europa Jazz Festival
« Envoûtant du début à la fin, soudé par l'idée des voyages, le duo enchaîne une pièce à influence berbère, une reprise d'un chant bulgare transposé pour clarinettes et des évocations klezmer. » – Citizen Jazz
« Mesmerizing from beginning to end, welded together by the idea of travel, the duo strings together a Berber-influenced piece, a cover of a Bulgarian song transposed for clarinets, and evocations of klezmer. » – Citizen Jazz
REVELATION of the Jazz sous les Pommiers Festival  // Sept.2020 for the webzine « Toute la culture » – By Amelie Blaustein Niddam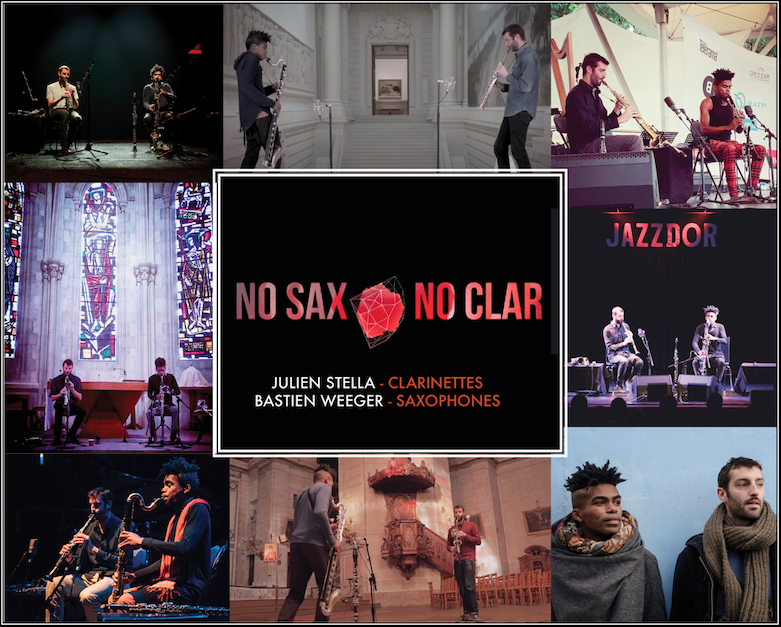 *****************************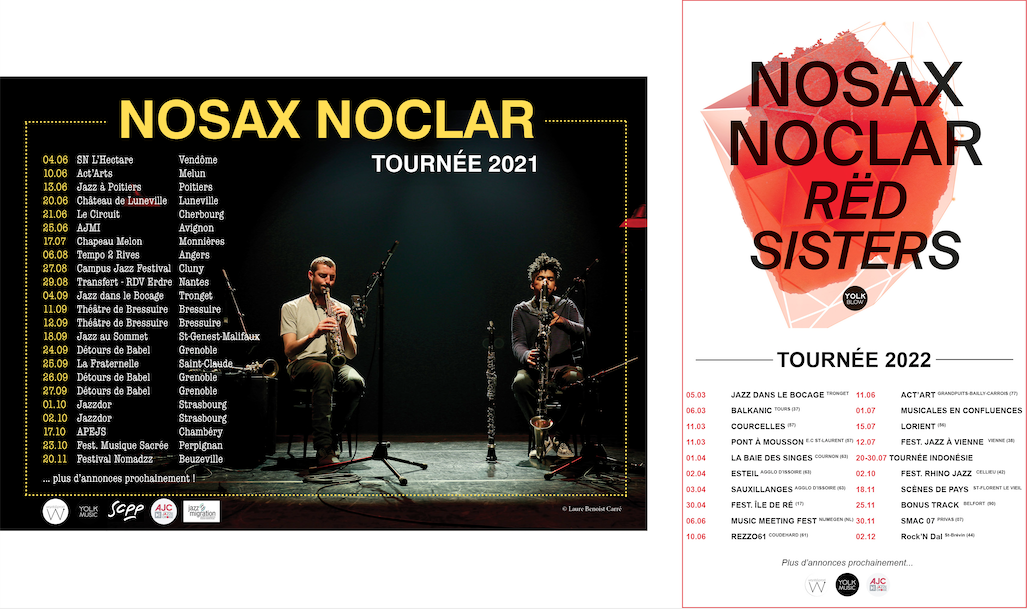 Festival aux Heures d'été, Nantes
SMAC Paul B, Massy
Paris Jazz Festival, Paris
L'envers du Bocal, Poitiers
Festival émergences, Tours
Altitude Jazz Festival, Briançon
Festival Bleu d'hiver, Tulle
Nuits de Querbes, Figeac
Balkanic, Tours
Master class au Conservatoire, Vanves
Jazz sur Loire, Tours
Festival Mens Alors, Mens
Rendez-vous de l'Erdre, Nantes
L'Astrada, Marciac
Festival Una Stricia Feconda, Rome
D'jazz Nevers Festival, Nevers
…