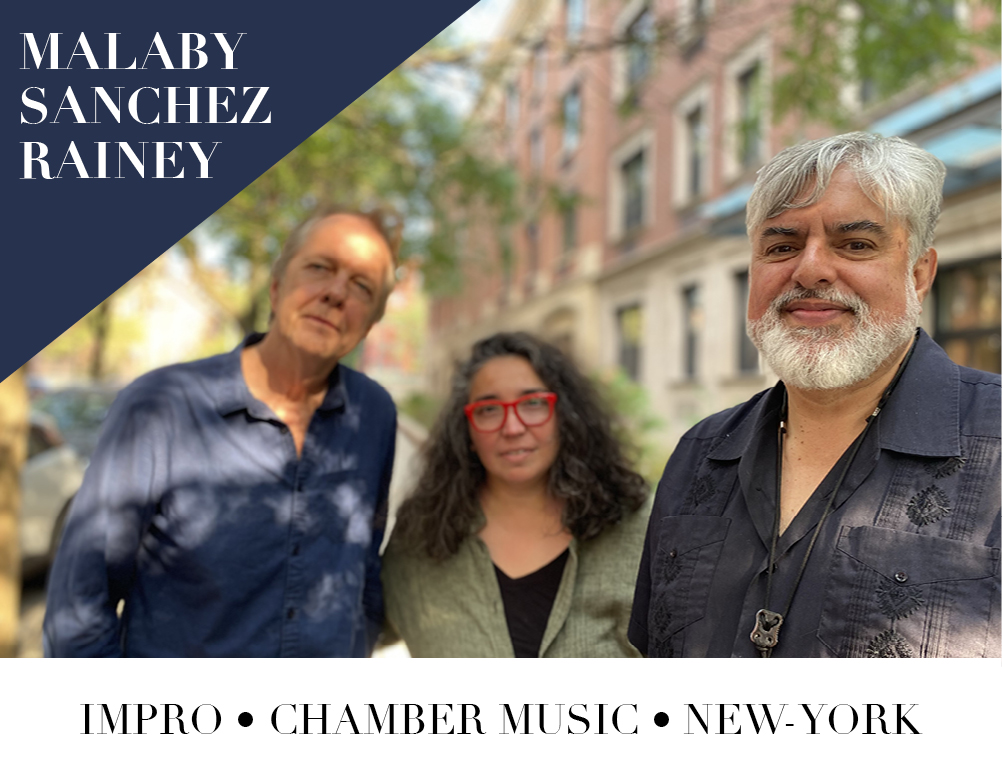 Tony Malaby

: saxophones


Angelica Sanchez

: piano, wurlitzer


Tom Rainey

: DRUMS
NEW ALBUM MARCH 2022 – ROGUE ART LABEL
>>> On tour 22-29 March, 2022 <<<
Trio new-yorkais de haut vol à la connexion télépathique composé de la pianiste Angelica Sanchez, du saxophoniste Tony Malaby et du batteur Tom Rainey.
Ils sont tous trois des maîtres reconnus de la musique, qu'ils soient à la tête de leurs propres groupes ou qu'ils jouent avec la crème de la scène jazz new-yorkaise ou internationale.
Pensé comme un trio de musique de chambre moderne improvisée, ce groupe compose spontanément avec une prédilection particulière pour la narration et la forme : structure et exploration vont de pair, aucune n'est sacrifiée au profit de l'autre.
Les incandescences de Malaby font merveilles avec le langage harmonique et rythmique très singulier de la pianiste. Tom Rainey, batteur majeur, est là partout où on l'espère, rarement où on l'attend.
À propos de leur trio, Tom Rainey déclare : « Cela semble simple à dire, mais nous avons tous les trois une véritable alchimie créative. L'alchimie est la différence entre un simple groupe de bons musiciens jouant dans une pièce et quelque chose de magique qui se produit ensemble. Tony et Angie sont comme une famille musicale pour moi. Je joue dans différents groupes avec Tony depuis plus de 20 ans maintenant. Il y a tellement de profondeur dans ce qu'il fait, et ça ne cesse de s'approfondir. La personnalité d'Angie transparaît vraiment dans son écriture comme dans son jeu – cette honnêteté et cette générosité d'esprit vivent dans la musique. Pour ma part, je veux contribuer au collectif, le faire vivre et faire ce que je peux pour que la musique soit toujours spéciale. »
———-
EN version
High-flying New York trio the telepathic trio of keyboardist Angelica Sanchez and saxophonist Tony Malaby.
Angelica Sanchez, Tony Malaby and Tom Rainey are each renowned masters of the music, whether leading their own various bands or playing with the cream of the New York jazz scene.
Conceived as a modern improvised chamber music trio, this group composes spontaneously with a particular predilection for narrative and form: structure and exploration go hand in hand, neither is sacrificed for the other.
About their trio, Tom says: « It sounds simple to say, but the three of us have real creative chemistry together. Chemistry is the difference between just a group of good musicians playing in a room and something magical happening together. Tony and Angie are like musical family to me. I've been playing in various groups with Tony for more than 20 years now. There's so much depth to what he does, and it gets deeper all the time. Angie's personality really comes out in her writing as well as her playing – this honesty and generosity of spirit lives in the music. For my part, I want to contribute to the collective, to keep it going and do what I can to always make the music special. »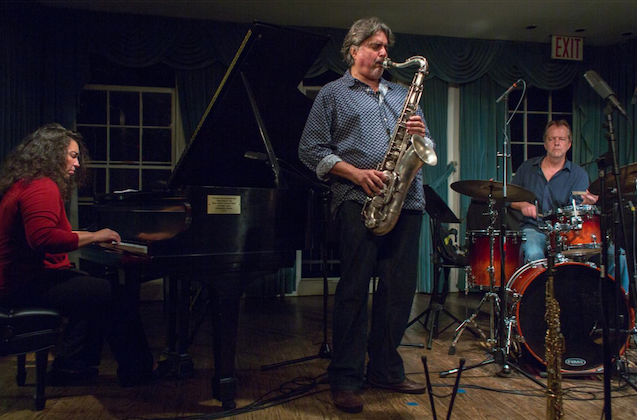 © Scott Friedlander